MAXHUB VIDEO WALLS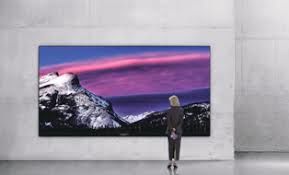 MAXHUB Integrated LED Display Terminals are suitable for meeting rooms, show rooms, lecture halls, and other large scenes, offering you the visual experience of giant screen cinema. The outstanding interaction design and mirroring technology of MAXHUB make your presentation smarter and superior.
With the "All in One" design concept, modularized machine case, power supplement system, control system, Wi-Fi, and Bluetooth are integrated to save more space. The light thin screen (thickness is 38mm), and super narrow aluminium frame allows for easy 2 hour installation via wall mounting, hanging or foot stand.
Features: All in One Design with 3-in-1 integrated board containing hub,power & receiving card. Remote control allows channel switching, one button On/Off, brightness adjustment and standby wake up functions.
MaxHub LED Wall / Standard Series

Cabinet Material Aluminium / Input Port HDMI / Stand/Wall Mount/Hanging / One key to start
Service: 100.000 / Front Side Repair
138" LED Wall LM138MP15

LED Video Wall

Commercial Grade


Key Features

Size: 138"
Pixel: 1.5mm
Dimension: 3063 x 1845 x 38.5 mm
Display Ratio: 16:9
Display Resolution: 1920 x 1080
Brightness: 100-500 cd/m²
Contrast: 4000:1
Visual Angle: H160° V160°
Consumption: 2.4 / 1.25KW

Warranty 3 years
165" LED Wall LM165MP19

LED Video Wall

Commercial Grade


Key Features

Size: 165"
Pixel: 1.9mm
Dimension: 3673 x 2188 x 38.5 mm
Display Ratio: 16:9
Display Resolution: 1920 x 1080
Brightness: 100-600 cd/m²
Contrast: 4500:1
Visual Angle: H160° V160°
Consumption: 3.7 / 1.9 KW

Warranty: 3 years

220" LED Wall LM220MP25

LED Video Wall

Commercial Grade


Key Features

Size: 220"
Pixel: 2.5mm
Dimension: 4893 x 2874 x 38.5 mm
Display Ratio: 16:9
Display Resolution: 1920 x 1080
Brightness: 100-600 cd/m²
Contrast: 5000:1
Visual Angle: H160° V160°
Consumption: 6.5 / 3.3 KW

Warranty: 3 years